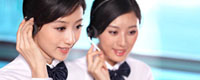 Name: MR PRICE WU
Mobile: +86-180 6922 4422
E-mail: info@hipromos.com
Add: Wenzhou, Zhejiang Province, 325802 China/Ningbo 315100, Zhejiang Province, China/Kowloon Hongkong

Skype: hipromos



Since 2008, Hipromos.com has been one of the largest factory supplier of Promotional Products ,Promotional Items and Corporate Gifts in China. www.chinacustombags.com is our branch factory for China Custom Reusable Bags, Factory Direct Shopping Totes, Quality Promotional Grocery Bags, who offers thousands of reusable & eco-friendly shopping bags ,such as non woven bags, laminated shopping bags, PP woven bags, Cotton Tote, Polyester Backpacks and more…all available at www.chinacustombags.com featuring tremendously low prices and premium quality. There are many reasons we offer the best prices at quality china custom bags in this industry,including:
· Factory direct
· Largest inventory
· Print in-house
· Export products directly


We take great pride in our work and our facilities.Headquartered in Longgang,named Printing Center of China.All of our factory direct promotional bags will have fabulous and perfect printing appearance with our skillful printing technology. All of these items can be custom printed to your liking and promote your business with branded logos around.

It's our goal to have you come back over and over again,and we are committed and dedicated to you and your needs. Our customers are our number one top priority and we prove it each and every day to the many customers, please choose your prefered items at our website and our offers will go back to you shortly.

It is our goal to continue to be the most outstanding promotional products company in the China.We have experts in the field of promotional products who are available to speak with you about all the options.Our employees are knowledgeable in just about every form of imprinting that is available on promotional products.

China Custom Bags are a key factor for marketing a business and exposing the name of that business. ChinaCustomBags.com knows this better than anyone. We know how important your business or event is to you. Our growth these past years, is the direct result of how you,our customer,is treated.You keep coming back and that tells us we are doing the job right!

Whatever your factory direct promotional totes needs are, we are always here to help. Give us a call or place an order online.Our promotional bags specialists are standing by waiting to hear from you now.

Welcome to Hipromos.com & ChinaCustomBags.com, appreciate so much for your time.Good luck & cheers!

---
Owned by ►hipromos.com, leading factory direct promotional products supplier from China, click to learn more about China Custom Promotional Items at Hi Promos Ltd.